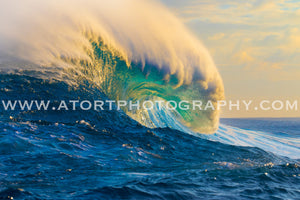 Pe'ahi
Pe'ahi
Majesty. Power. Perfection. These are some of the words used to describe one of the world's most powerful waves, Pe'ahi.  Pe'ahi means "wave" in Hawaiian and is located on the North Shore of the island of Maui and has lent its name to BIG wave surfing and is also know as Jaws for for its ferocity.  This was an epic 40 foot plus swell that was extremely rare and part of the El Niño surf year which held the prestigious Eddie contest on the North Shore of Oahu at Waimea Bay.
The subtle shades of the first light hitting the morning sky, emerald tones of the morning lit barrel, deep ocean blues pulling it ALL together to make this an extremely rare moment in time. 
The fine detail in the face of the wave is contrasted with the dangerous size, power and speed of one of the worlds most difficult (but beautiful) waves to capture and ride.
Aloha