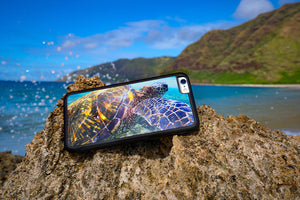 Turtle Paradise iPhone 6/6s Case
A high quality phone case for the iPhone 6, featuring a honu image taken with my iPhone!  Yup and still beautiful for you all to enjoy.  This turtle was clean and healthy and in Hawaiian paradise hence where the title came from.
This case is comfortable and easy to hold and grip well, and it's protective if dropped. I personally have been using these for years now myself and dropped my phone more times than I wish to admit and never had one issue or scratch with them on my iPhone.
This high quality iPhone 6 case is functional artwork.  It is an actual aluminum print mounted on the case and it will get compliments each and every day.  Aloha!